Kaba Mauer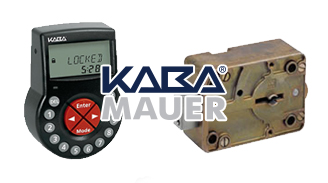 Innovation and Tradition
German Kaba Mauer was founded in 1864 in Heiligenhaus. Worldwide, many reputable companies and institutions trust the Kaba Mauer safe locks. They know the quality and wide-range usability of products and solutions and count on them. Kaba Mauer primarily manages to maintain this high standard because it combines innovation with tradition.

Diverse experience combined with striving for continuous optimization throughout 140 years of company history. All this connected with reliability and endurance has made the Kaba Mauer company one of the leading manufacturers in the industry. The company is committed to delivering products, made in Germany, to meet the highest security requirements of its customers. Trust your safety on Kaba Mauer products!
Activity

Whether your business is manufacturing safes, sells locks, provides financial services, or operates as a security company, subsidiary or retail chain, finding the solution that suits you at Kaba Mauer is guaranteed.

Protection and security are basic and individual needs. Customers' requirements are therefore very unique. However, they are the same in one thing: they expect the highest standards and guaranteed security. It does not matter if it is a lock for a safe, a deposit locker or wardrobe closet, or a safe spare part, fitting or a high security lock.

The company's basic philosophy is to produce its products from the lowest security level to the highest, to meet customer expectations. They mainly deal with the manufacture and distribution of locks for safes, but produce other security accessories as well.

In secure locking systems, you shall trust Kaba Mauer's experience too. Kaba Mauer has been producing quality products that meet the highest demands for more than 140 years.
Kaba Mauer is part of the Kaba group.
The Factories

Bad Berka - new commitment
During the reunification, Kaba Mauer recognized the optimal conditions for creating a modern production plant in Bad Berka, near the old clock factory, to carry out a sophisticated production program. Since 1993, the company has been manufacturing parts, electronic components and tools and assembling bolt structures and locks. They employ about 40 people.
Heiligenhaus - heart and origin
Nevertheless, the heart of Kaba Mauer continues to beat in Heiligenhaus, the center of the fittings and locks industry. There are 70 employees working in the traditional headquarters, including the Development, Management and Sales areas. There is still a very significant production here today. In modern workplaces, dedicated specialists carry out the process of manufacturing and checking of locks, and the production of keys, hinges and fittings.
Development

As a basis for business philosophy, Kaba Mauer pays particular attention to selecting the right materials and components. At the birth of products years of professional experience are combined with preliminary in-depth research and design work. In recent years, the company has developed its own "Research and Development" department, which is responsible for finding the most innovative solutions and the best materials to ensure that products always have the highest degree of reliability and quality. The goal of the "research lab" is to find the best price-quality ratio in the changing market and reach the highest degree of customer satisfaction.

Quality Assurance

You can choose from a unique product portfolio - from the lowest level of security to the highest - products that are tested according to CEN, VdS and other qualification standards, the quality of which is always guaranteed.
You will always be, also while you choose, in the foreground with your individual needs and high expectations. At Kaba Mauer, you can choose the right solution to your wishes and ideas. Professional product and project management is guaranteed.
Kaba Mauer ensures with a DIN EN ISO 9001 certification that you are provided with valuable work.
Kaba Group

Beyond security
Kaba is a globally active company and market leader in certain segments of the rapidly growing security industry, as a supplier in the field of innovative access control systems. The growth of the company is driven by four global trends: urbanization, increasing demand for security, technological innovation and growing prosperity in emerging markets. The listed company employs around 7500 people in more than 60 countries.
Kaba offers its customers needs-oriented security solutions that provide as many benefits as possible for security, organization and convenience. With attractive and durable design, Kaba products fit perfectly into different architectural styles.
The company owes its worldwide technological leadership to its innovation capability. Its investment in innovation and product development is continuous. It offers a wide and diversified range of products to customers. Basically, Kaba products are compatible with previously installed systems, so buyers are safe to invest. The innovation capability is reflected in about 300 patents registered in around 60 countries.
The Kaba Group sells its products and solutions all over the world. Its main markets are Europe, North America, and more and more the Asia Pacific region.
Kaba, a Swiss company founded in 1862, Zurich, by Franz Bauer, has always appeared with an innovation in the market and has set a benchmark for safety and comfort.
The Kaba Group is a company with a history of more than 150 years. Over this time it has became the number one expert and technological frontrunner regarding a number of security solutions.